I am not sure if you guys reading this are aware of my home state of Tasmania (the little island below Australia, see the yellow arrow?), but as far as receiving newly released beers in the market, we may be one of the last places on earth to receive them…I think that Tristan da Cunha even gets beers before we do (look it up, I had to!).
With that in mind, my reviews here are never going to be the first to market, or hot off the press, but does that really matter? If you have never tasted a beer before, it is new to you, no matter whether it is on the first day of its release or a month or two down the track…so if you haven't tasted the Hop Hunter IPA from Sierra Nevada yet, please read on.
What I love most about the craft beer industry is the passion of the people that are involved in it. The men and women that just bloody love going to work each day to lovingly produce a product that is then shared with like-minded drinkers across the world, putting smiles on their faces. If you have that in your life in your chosen area of work, I am jealous! Amongst these passionate and driven people you have some characters that are considered visionary, driven, and sometimes mad, but they are doing it for the love of beer. They put their homes, lives and finances on the line to chase a dream…to produce the best damn beer they can make, and I admire them for having the guts to do that.

When I think of visionaries in the industry, names like Sam Calagione (Dogfish Head) and Jim Koch (Sam Adams) from the USA spring to mind, or Phil Sexton (Little Creatures et al.) and Chuck Hahn (James Squire) in Australia. Men who have helped to shape the beer landscape in their respective countries and are passionate about their role in the industry. When it comes to me dedicating their life to beer, I would say that this guy sits atop the pile. He has spent his entire adult life chasing his dream, the owner and founder of Sierra Nevada, and one time head engineer, brewer, bottler, salesman, marketer, truck driver and all round fix it guy, Ken Grossman.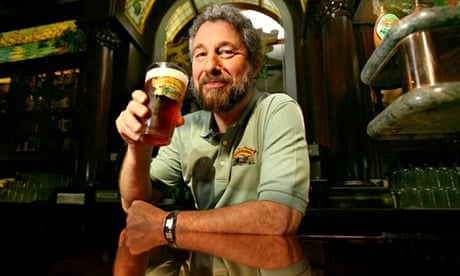 I have been reading Ken's book lately, a mighty good read if you love Sierra Nevada beer or have any interest in what it takes to start a brewery. It's a real story of struggle and perseverance, and ultimately a win for the (one time) little guy who never lost sight of his dream. Any man who can produce a beer as tasty and consistent as Sierra Nevada Pale Ale, AND distribute it in big-boy cans, is a hero in my eyes!
So here I was on holiday, reading the book of one of the forefathers of the Craft Beer Revolution, when I stumbled across one of the more interesting developments to come out of his brewery in recent years, the Sierra Nevada Hop Hunter IPA. Sierra Nevada have always been known for their quality ingredients and love of hops, but for this one they attempted something new to try and further harness the wonderful aromas that hops produce.
I'm no scientist, so I will give you the dumbed down version of how I understand this process to work.
Hops are grown in specific regions in both the Southern & Northern Hemisphere and are only harvested once a year, so therefore fresh hops are only available twice a year in March (South) and September (North). What Sierra Nevada has done is worked out a process where they steam out the oils from wet hops that create the awesome beer aromas that we all love and then store them for use all year round. The oil is a pure extract doesn't include any of the acids that create bitterness in beers, it's all about the aroma…pretty bloody clever I think! Word on the street is that the hop oil is made up of a mix of Centennial, Cascade, Columbus, Tomahawk & Zeus hops. I am not familiar with the characteristics of the last two, but they sound awesome…the first three, I know they are awesome!
Now for a better explanation, perhaps watch this!
This beer was released in February, so my bottle was a good six months old which isn't the ideal time to drink "fresh beer", but then I read a few reviews of the beer online that talked about "cellaring" the beer for a month or so to see if the taste profile changed. Apparently it did change the taste a bit, for the better…so maybe the fact that I live in the ass-end of the world is actually a positive on this occasion?
As you would expect from digesting my amazingly technical explanation of the hop oil extract process above, this beer gave off some amazing hop notes once poured. I have never smelled an IPA quite like it, which I guess is exactly what Sierra Nevada was hoping for with this beer, where hop aroma is king. It had everything from piney to fruity notes…I read somewhere that it has been described as "air freshener for hop heads"…I like that description.
The beer poured nicely in the glass…I didn't have my usual Dogfish Head IPA glass with me on holidays, so I had to settle for a generic soft drink glass. Despite the less than ideal conditions, the beer formed a nice white head on top of a nice bright and clear golden yellow/orange beer…I even got some lacing on the glass which I was surprised with, seeing as the glass had probably had milk in it previously and was probably blasted with harsh detergents before I used it!
I like my IPA's to be hoppy but balanced, I don't love it where the beer is hopped to the absolute hilt but doesn't have a good malt backbone to counter the amped up bitterness. This beer was perfectly balanced in my opinion, I was faced with my usual dilemma of wanting another one when there wasn't one to be had! I hear this beer is going to be a year round release, so I look forward to having it again!
If you like IPA's, can I suggest you have a crack at some of these:
Little Creatures IPA: Like I said above, I like my IPA's to be nicely balanced. This isn't the hop-bomb style of IPA that some drinkers are looking for, but I think they did a nice job of balancing it out.
Feral Hop Hog American IPA: No surprises here, this has been on the top of many "best of" lists for the last few years, and for good reason!
Holgate Road Trip: I am surprised that Holgate don't receive more kudos in the Aussie Craft Beer industry, there are always breweries mentioned before them but I think they make beer that is up there with the best of them…this one is no exception.
Brew Dog Punk IPA: I love the way these guys push the boundaries of craft beer. This beer sticks to a standard formula, nice and simple, and it works. It also comes in great little cans, which you know I love!
Moondog Brewing Jukebox Hero: These guys love to push the boundaries as well, and they give great names to their beers…Jumping The Shark, Perverse Sexual Amalgam and Breakfast of Champions. But they also produce really good beers that are of the more regular variety like the Jukebox Hero (which is still a cool name!).
And if you want a session IPA, go see the girls at Two Birds with their Bantam Session IPA…they know what they are doing!
So that's it for another week of beer reviews on Beer Healer…
Cheers to great beers!
And don't forget to share this round, if you like it…I've installed some new buttons on the left to help!